St. Patricks Day In The Smokies And More Events
February 16, 2022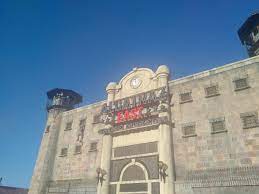 Alcatraz East Museum in Pigeon Forge
February 20, 2022
Affordable vacations? Is that still possible? Absolutely, you can plan an affordable vacation in the Smoky Mountains for yourself, your family, and or friends. Working with a budget is a good idea, and it is important to decide what is most important to you during your time away. This will help you decide where to spend the budget you have to have a fantastic vacation, while you still keep track of your funds.
One of your top expenses will be your lodging. Whether you prefer a hotel, condo, or cabin, this is where your first decision will need to be made. If you are choosing a cabin, we might recommend choosing a smaller cabin company. These companies pay special attention to their homes and their guests. Often you can avoid fees or save on fees when you contact the cabin company directly to reserve your cabin. There are many advantages in working with the cabin company directly as opposed to reserving the same cabin through a VRBO or Airbnb due to the fact that there are no 3rd party fees. Also, the direct connection allows more opportunities for the hosts to better serve you.
Condos and cabins may be a good choice because of the full kitchen! Sure, you don't want to spend your vacation cooking but with a small bit of planning, you can save a good deal of money by eating more meals in the fully stocked kitchen and dining room at the cabin or condo you have reserved. You may like fixing a lasagna and a batch of chili at home and freezing for travel to your cabin. With it prepared and ready, you can enjoy dinner in your beautiful cabin with mountain views and avoid waiting in line for a table. What is your family's favorite snack, buy it at home and bring it with you. Bring water bottles and drinks from home. Use your value sense when shopping and bring drinks from home.
There are many more convenience-type foods you will find in the area. Maybe it is a great idea to select a few places you want to try out but eat in the cabin the rest of the time. It will save money for sure.
There is NO COST to visiting the Great Smoky Mountain National Park. Plan outdoor adventures that will be memorable for all. We can highly recommend a picnic at Metcalf Bottoms or Chimney Tops in the Park. Hiking trails are abundant. Be sure that you are informed and appropriately prepared for your hike. Discover favorite areas like the Townsend Wye, Cades Cove, and the Roaring Fork Motor Nature Center. The Sugarlands Welcome Center at the base of the entrance to the Great Smoky Mountain National Park is FREE and an excellent learning experience for all ages. This is a great way to begin your National Park adventure.
Discover Free Fishing for Kids at Herbert Holt Park and Mynatt Park in Gatlinburg. Both of these parks are excellent for families. You will find a nice play area for kids along with access to free fishing for the kids. This is a great photo opportunity time and a way to really enjoy the great outdoors.
Be sure to check Discount Sites like Groupon and Sweet Deals for great opportunities to try some of the restaurants and attractions for a very affordable price. Often you will find great deals on some of the area's most fun amusements. Check often and plan out your time.
Bring games from home and enjoy them in your cabin. Everything is what you make it. Yahtzee and Scrabble might be a blast around the kitchen table or at the picnic table outside. Look for a fire pit and tell stories from your past or makeup story games. All of these types of fun will be cherished memories.
We hope these ideas have provided some thoughts about how to make your vacation an affordable one. Kids will love the great outdoors. Tubing, hiking, and fishing will create memories for a lifetime from their visit to the Great Smoky Mountain National Park.