It is late May and the Summer season is right around the corner in the Smokies (and the rest of the hemisphere, obviously), we wanted to get you acquainted with THE big Summer event we all look forward to – the Smoky Mountain 4th of July for 2022.
In Pigeon Forge, Patriot Park is having Patriot Fest starting at 12:00PM with entertainment starting at 4:00PM. The whole park becomes a center of activity with a huge sound stage, lots of activity, food tents, cooling off station, music performances by Liquid Velvet, Swamp River Revival, headlining act Josh Turner and the Pigeon Forge Community Chorus until the fireworks start between 9:45PM to 10:00PM. Gatlinburg will be celebrating in true traditional fashion, and all your favorite activities from the Midnight Parade to the River Raft Regatta will be ready for you to enjoy! The Midnight Parade starts on 12:01AM, one minute past midnight right at the very start of the 4th of July. The following morning, eleven hours later, registration for the River Raft Regatta will begin at River Road (11:00AM). Some free music performances will go on at various times of the day throughout downtown Gatlinburg, and the fireworks themselves will explode over the downtown area at about 11:00PM!
MyPigeonForge.com writes:
Patriot Festival
Patriot Festival returns once again in 2022. This year's annual 4th of July celebration is headlined by country superstar Josh Turner! This event is proudly presented by 107.7 WIVK and the City of Pigeon Forge.
Josh Turner has received multiple GRAMMY, CMA, and ACM nominations and has also joined the Grand Ole Opry. Country music legends such as Randy Travis, John Anderson, Johnny Cash, Vern Gosdin and Hank Williams have inspired his most recent album, Country State of Mind. The new album features dozens of songs, including songs from those five legends among others, span more than half a century of classic country music.
For nearly two decades, Turner has been one of country music's most recognizable voices, and he has never kept his reverence for traditional country music a secret. Josh looks forward to performing some of his greatest hits in Pigeon Forge, celebrating America's birthday in style.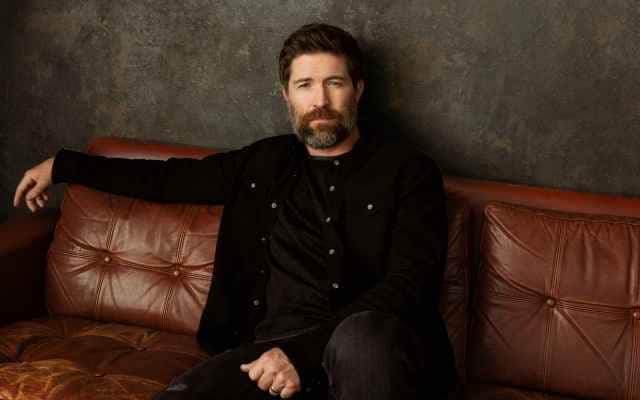 Fireworks Celebration
Pigeon Forge will mark Independence Day with the city's annual fireworks on Monday, July 4th, capping the holiday weekend. The spectacular fireworks display will be simulcast by WIVK-FM 107.7 FM radio station in Knoxville.
Patriot Festival guests are welcome to bring lawn chairs and blankets. Umbrellas, tents, and coolers are not permitted. Food vendors will be available. Free parking is provided at the Teaster Lane Municipal parking lot, and a free shuttle operates every 20 minutes between the lot and festival site.
Event Schedule
4:00pm: Welcome / Veterans Tribute
4:15pm: Pigeon Forge Community Chorus Patriotic Salute
5:20pm: Liquid Velvet
6:45pm: Swamp River Revival
8:30pm: Josh Turner
9:50pm: Fireworks"
See this article in full at https://www.mypigeonforge.com/event/patriot-festival.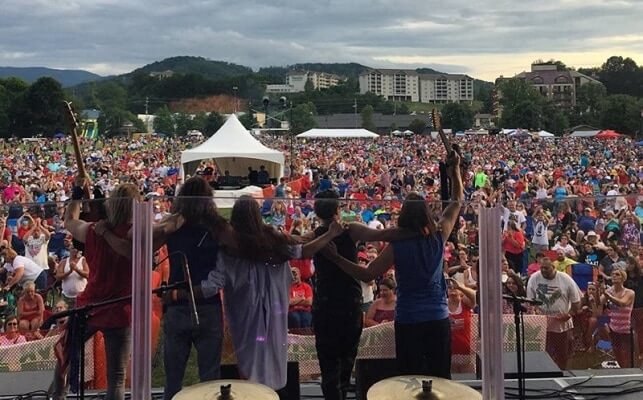 And Gatlinburg.com writes:
First Independence Day Parade in the Nation
Gatlinburg's award-winning Fourth of July Midnight Parade will step off at 12:01 a.m. on Monday, July 4.
The parade steps off at the intersection of East Parkway and Baskins Creek Bypass turning south onto the Parkway at traffic light #3. The parade continues through town ending at Ski Mountain Road. Parade-goers are encouraged to arrive early on Sunday, July 3, to avoid traffic and secure a place to watch the Midnight Parade along the Parkway.
The First Independence Day Parade in the Nation has garnered national attention and award recognition for excellence in entertainment. The parade has been named by National Geographic Traveler Magazine as a "Top Ten Parade to see in the US" and recognized by Livability.com as one of the "Five Best Fourth of July Celebrations in Smaller Cities." Additionally, the event has earned multiple Grand Pinnacle Awards by the International Festivals and Events Association.

Gatlinburg's River Raft Regatta
Gatlinburg's most-nail biting race of the summer returns! Set against the backdrop of Gatlinburg's fun-filled Fourth of July celebration, comes the ever-competitive River Raft Regatta, an annual race of unmanned floatables down the Little Pigeon River.
All contestants will begin the day at the race's starting line at the former Christ in the Smokies Museum, beginning from 11 a.m. to register their floatable. The race kicks off at 1 p.m. and ends after all floatables have crossed the finish line at Ripley's Aquarium of the Smokies.
Eventgoers can opt to enter a rented rubber duck into the competition (or bring your own at no cost) for $2 or 3 for $5 onsite. All proceeds go to the Gatlinburg Chamber Foundation and is a great way to for everyone to participate in this fun, thrilling event. This year's River Raft Regatta will issue trophies to those who finish 1st, 2nd and 3rd in the Treasure, Duck and Most Creative Float categories.

Gatlinburg's Fireworks Finale
Join the celebration in downtown Gatlinburg to mark our nation's "Independence Day" with a spectacular 20-minute firework show starting at 11:00 p.m. from the Gatlinburg Space Needle. Spectators can view the fireworks from any vantage point in Gatlinburg. This event is designated as a Top 20 event by the Southeast Tourism Society.
See these events and more at Gatlinburg.com/events/.
Related